Discover Our Quality
Frames
A major aspect of the design aesthetic delivered by umbrella products is created by the physical shape of the Umbrella canopy. At March Products Inc. we are committed to a classic Market style umbrella, exemplified by the straight lines reaching out to shade you with clean canopy edges. It is a timeless design that efficiently shades your space, while offering a wealth of customization opportunities that satisfy changing trends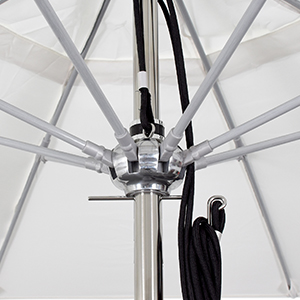 To ensure the longevity of a commercial umbrella frame in a public space, minimizing the issues that can be caused from a large number of people handling an item is important, so we focus on featuring a simple and effective method for raising the canopy. A braded rope on dual pulleys will bear the weight of the canopy and help you to open the umbrella by hand. A pin stop in the center mast is a simple and elegant finish. Simple and effective, the commercial combination for shade success.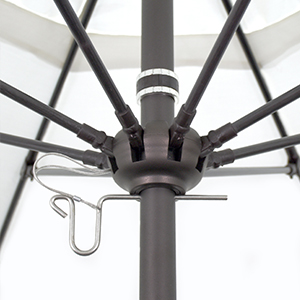 In the most demanding commercial space, hundreds and hundreds of people can interact with an umbrella on a given day. Keeping the canopy undisturbed is a key element in protecting your investment in Umbrellas, so we recommend focusing on products that simply open and close with the push of your hand. Fewer users will have a chance to engage with it, and you can provide a more robust shade benefit that lasts in the most well-traveled public spaces.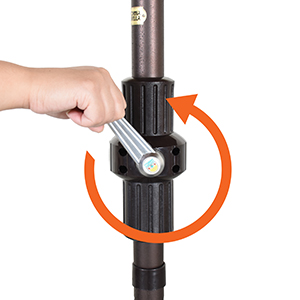 Residential umbrella products are made to increase convenience to the user, and the main way to achieve this is to make opening the canopy breathlessly simple. We feature a fully ratcheted crank mechanism that allows you to sit and raise the shade with one hand free to hold your drink. Our upgraded mechanism utilizes a 600lb test braided nylon cord, and counter balanced gears for smooth and light weight action.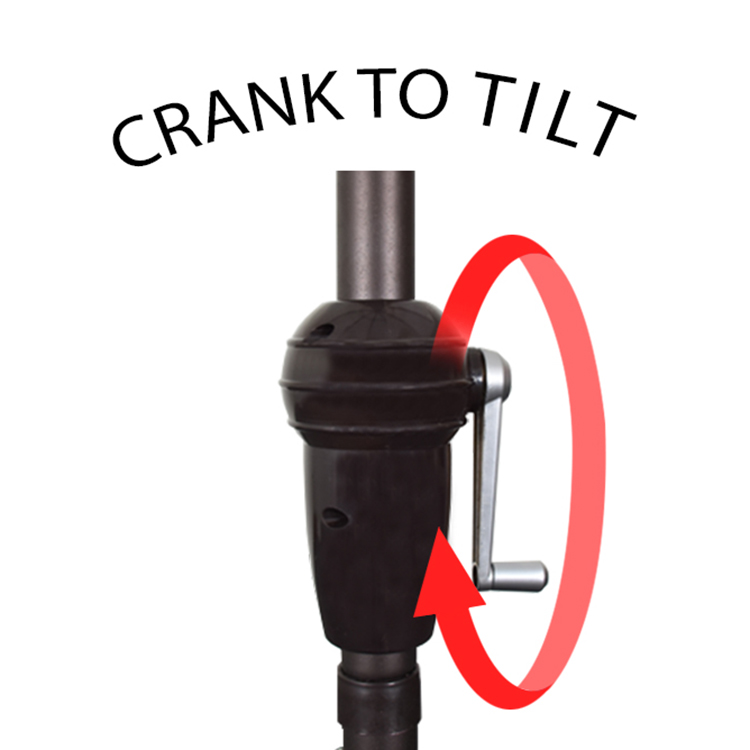 An umbrella that uses an 'Auto tilt', or 'Crank tilt' as it is sometimes called, has a more developed mechanism for opening the canopy than that of a Push tilt. Umbrella products that feature this option are much easier to operate, and more convenient to the user. As you crank open an Auto tilt umbrella the mechanism inside the pole is ready to begin tilting as soon as the canopy is fully opened. All you have to do once the Shade fully expands, is keep turning the handle! A few turns, and the umbrella shade lowers to a tilted position.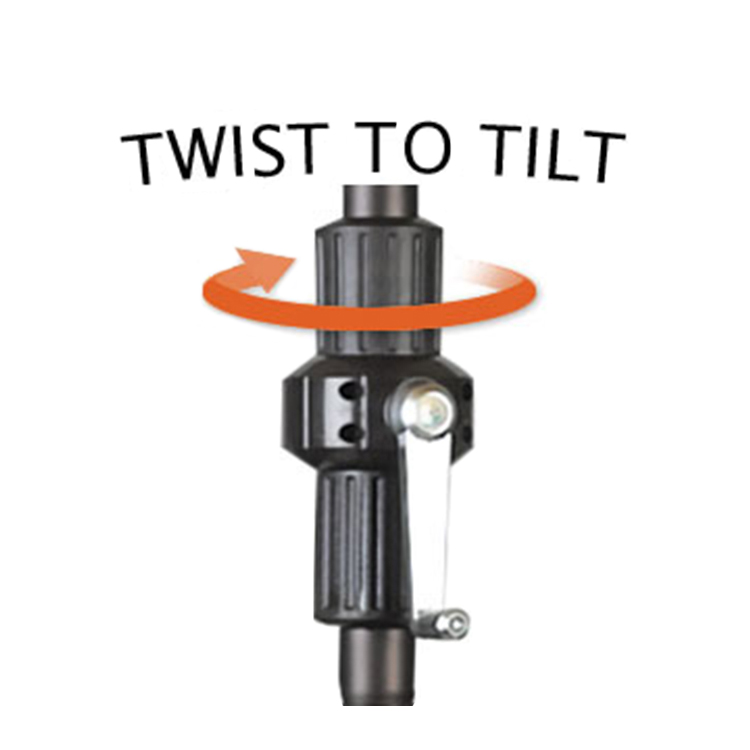 California Umbrella invented the Collar tilt feature decades ago, because innovating great features into our shade product has always been a calling card for this company. The real inspiration for this feature is to make something easy, and better than the rest of the options in the market, so that the experience interacting with our products is second to none.

The Collar tilt functions by interacting with our premium ratcheted crank within the center pole of your umbrella. Once your canopy is fully opened, stop cranking, and twist the rotating section of the crank housing to incrementally lower the canopy little by little. We call this benefit the 'Infinity tilt', because unlike other mechanisms, you can tilt the product as little or as much as you want.

This is useful because the sun takes its time moving down the evening sky, and you can keep a portion of your view of the horizon while you adjust your shade. It has an added benefit of preventing unintended problems from over-cranking the umbrella. There is no substitute for the smooth control you have to dial in your shade with our Collar tilt products.
Fabrics
One of the most important consideration to make when it comes to deciding on a shade product is the type of Fabric that you will select for the canopy. The different textiles you can choose from will have a great impact on the longevity, and beauty of the umbrella you buy, as well as the cost to own it or care for it. March Products Inc. is committed to providing the most compelling textile options available in our product category, so that your shade selections are made just right for your needs. We encourage you to contact us directly to discuss more in depth details about our fabric selections, their features, and what consideration you can take into account when making this important decision. Here are some essential details that can help you decide where to begin differentiating our selections and comparing them to your needs.
UPF
UPF is a rating that describes the UV blocking property of the fabric in question, similar to the SPF of a sunblock. Fabrics can disrupt UV rays and do help to prevent the negative effects of exposure, principally sunburns, and sunlight sensitivity. The highest rating a Fabric can physically achieve is a rating of 50.
UV
The UV rating for a textile most often refers to the length of time the fabric can remain exposed during the peak sunlight hours of the day before losing its color to the natural degradation that occurs when fabrics are exposed to UV light. The higher the number the more hours/ days of peak sun exposure a fabric can withstand. There is greater effect to the resistance as the hour rating increases. There is also an international standard which Grades the performance of a textile, which ranges from 1 to 5 and reflects a superior degree of resistance to fading with the highest number grade.
Hand
A fabric's 'Hand' refers to the quality associated with a fabric based on the sensation it offers from the touch and weight of the physical material. The descriptive words used to refer to this feature of a fabric give the reader a sense for the finished quality of the fabric and its performance while in use.
Solution Dye
Textiles of various colors arrive at those colors from the dye used to create them. There are many ways to apply the color desired on the threads used to weave a fabric, but none as completely effective at impregnating the yarn with the color property as casting the dye into the solution used to spin the thread into existence. This method leaves the yard fully steeped in color, and increases the color life of the material under exposure. The stronger the material used to create the yard, coupled with this method of dye, make for the most robust performing textiles.
Weight / Denier
In many ways people associate thread count with fabric quality, this is measured and communicated by the Denier rating. For the purposes of our shade textiles we usually reference the fabric's weight per square yard to the heft and durability of the material. This is a more useful measure, allowing you to compare the fabrics you are selecting from for their heft, which translates to longer color retention and less degradation over time.
Overall Life
Our fabrics can last multiple seasons, if properly cared for, and the overall life of a fabric communicates the material type's expected lifespan. When a fabric is expected to last a number of seasons, this usually means that if the user stores the fabrics out of the elements and only exposes the fabric to the sun during the time of year that typically outdoor items are most used, then the fabrics will last longer and hold their performance for multiple seasons. If a textile has more robust performance, it can survive with its beauty and richness for long periods even if exposed all year long, or for multiple years.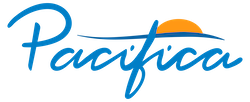 20 Standard Color selections
Solution Dyed Canvas
Offered for 7.5', 9', and 11' Market Umbrellas
Premium Canvas performance for a mid-range price point
4 season color-fast warranty
Exclusively available on California Umbrella products

30 Stocking Fabric selections available for express service
100's of additional colors, patterns, stripes, specialty weaves available, made to order.
Industry leading Acrylic material
Solution dyed for the longest lasting color possible
Premium performance product
5-year Warranty on Upholstery fabrics, 10-year warranty for Marine grade fabrics
Nearly every fabric choice offered on all the umbrella product in our line

20 Standard Color selections
Solution dyed canvas
Available in 7.5', 9', and 11' Market Umbrellas
Affordable option for a multi season Umbrella
Materials
The materials we must source to create a great shade product are some of the most important considerations we can make when designing and building our products. We strive to innovate the combinations and functions of the materials we source to bring out the potential in a Market style umbrella design. Our strength as a manufacture of premium umbrellas can be found in so many aspects of our capabilities, from the hundreds of patents and intellectual property we have developed to improve our products, to the hundreds of molds and specialized manufacturing techniques we have to keep a competitive advantage over the many options you have for a supply of these items. However, the prime example of our capabilities is in the fantastic materials we can source to create your shade with.
The highest grade of Aluminum is all we offer, with all of its enhancements and the myriad of ways we are able to exclusively work and finish the raw metals and the formed tubes. We outsource almost no part of the important processes that go into working the metal into a durable frame, including pressing, rolling, and powder-coating.

Our Aluminum components are also more robust than most of the competing products found in the industry because we are committed to using thicker gauges for our center posts, ribs, hubs, and finials, all elements of your umbrella that will feel more solid, and resist bending or buckling under stress.

Furthermore, we have developed the most refined powder-coating processes in the industry, which allow us to achieve hundreds or variants of color and texture on our framework components, and we have selected a compelling collection of frame finishes to choose from, available for domestic shipments quickly.
In order to make a light-weight frame, that can support the weight of a variety of heavy canvas textiles, and withstand exponentially furious forces from winds that can rush through unexpected, all without wearing down or losing strength, we had to search out and create new ways of building components. Fiberglass is a material that California Umbrella has pioneered for use in Umbrella products in these components, and our innovations are changing the industry.

An Umbrella can act like a sail when the wind kicks up, so to survive it needs to be both flexible, and rigid, to hold its form, but still give way so the forces don't destroy your investment. Faced with this contradiction, we devolved our own Fiberglass reinforced plastics which hold beautiful lines, but move and deflect wind energy when it arrives. The technology we use goes further, because we are able to mold rib joints that don't require rivets to piece the fiberglass components they envelop. When you cover every aspect of the utility of this material like we have, the result we deliver is a peerless example of survivability, integrity, and value.

At the other end of the fiberglass material spectrum is our rapidly evolving molded Fiberglass material offering. With our capabilities we are able to impregnate a molded fiberglass Umbrella pole with a beautiful wood grain finish, or a textured skin that we can powder-coat to a satin black finish. The molded fiberglass is light weight, firm and solid, resistant to moisture, corrosion, impact, warping splintering and cracking. To offer beautiful finishes that add texture and warmth, on a material that is as solid and resilient as our molded fiberglass, is a perfect embodiment of the innovation California Umbrella delivers to the premium umbrella market.
We source a beautiful collection of hardwoods that make for elegant Umbrella frames. Mahogany and Oak species, harvested responsibly, and carefully selected to give you a subtle grain, warm coloring, and strong single piece frame components, these are the building blocks of our Wood market umbrella program.

Umbrellas have been around as a product humans use throughout recorded history. Across this time, Wood has been the most ubiquitous material used to create a shade in this form. We love the timeless look it offers, a testament to the simplicity of working with the most pliable and dependable material we have, to build items that make life better. Wood Market umbrellas are warm, with an inviting texture, and feature earthy tones that combine well with outdoor spaces, where you will use the shade they provide you with. Our wood market umbrellas live up to the traditional and timeless notes that exist within the product and we are committed to offering them at the most compelling prices as a part of our line.